GENERAL INTRODUCTION PEDIATRICS
The staff at Summit Surgical Center, LLC understand that the thought of surgery for a child and their parents is a new and challenging experience. We have created this web page to help provide information and answer potential questions in order to make this experience a positive one.
The Summit Surgical Center, LLC performed 1,944 pediatric surgical cases in 2017 for children ranging in age from infants to teenagers. The medical director and nursing staff are specially trained in taking care of children and their families. You can be sure that our team will care for you and your child as if they were caring for one of their own family members.
Click here to visit the Virtua Health "For Kids" website.
YOUR ROLE AS A PARENT OR CAREGIVER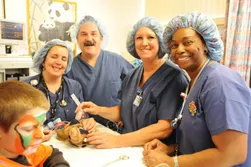 We recognize that parents and guardians are the experts with regard to the needs of their children. When a child needs to undergo a surgical procedure they will look to the parent/guardian for information and reassurance. Some ways to decrease the anxiety you and your child may feel is to prepare yourself and your child by reading this web page, asking questions of your doctor, scheduling a pediatric tour of the Summit Surgical Center, LLC, or consulting some of the reference material listed at the end of this site. Studies have shown that children can sense anxiety in their parent or caregiver that, in turn, may cause them to become anxious as well. The more prepared you are the less stress your child will experience.
Prior to the scheduled surgery date, if your child experiences any health changes such as a cold, cough, or fever, please call your doctor immediately so he/she can determine if the surgery can proceed as scheduled or be delayed until your child is feeling better.
We suggest that you arrange to bring a support person on the day of the procedure. This allows one person to drive and the other to comfort and assist the child during the car ride home.
If you have other children please make child care arrangements for them. In the interest of patient safety, privacy, and confidentiality, children other than the pediatric patient are not permitted in the recovery area. If this is not possible, please leave the child in the waiting room with your support person while you are in the recovery room.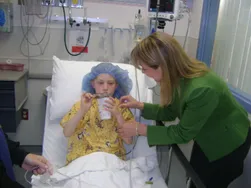 We request that you remain in the Surgery Center throughout your child's procedure. Should the procedure be a lengthy one, you will be updated periodically by our staff and should always feel free to ask our receptionist in the waiting room for an update.
We understand that there are many family members and friends that care about your child. However, only two adult visitors at a time are permitted in the recovery area. Your child should be surrounded by the people that will make them feel most secure and comfortable for the short time they will be there.
We encourage family involvement and collaboration to ensure a true family centered team effort with a positive outcome for all.
---
TIPS FOR DIFFERENT AGE GROUPS
Age Group
Infant:
Birth to 1 year
Fears
Separation from parent/caregiver
Stranger anxiety
Intervention
Parent/caregiver to be involved in procedures
Keep parent/caregiver in infant's line of vision
Limit the number of strangers caring for the infant
Bring familiar objects for the infant
Hold and reassure the infant
Age Group
Toddler:
1-3 years
Fears
Separation from parent/caregiver
Strangers, machines, darkness, abandonment
Fantasizes about inanimate objects
May perceive procedure as form of punishment
Intervention
Follow all interventions above and:
Give one direction at a time
Use firm, direct approach
Use distraction techniques
Prepare child shortly before procedure emphasizing those aspects that require the child's cooperation
Age Group
Preschool:
3-6 years
Fears
Separation from parent/caregiver
Injury, being left alone, loss of control
May perceive procedure as form of punishment or guilt for something done or said
Intervention
Use simple concrete explanations -- verbal, visual, play therapy
Explain procedures, unfamiliar objects
Demonstrate use of equipment
Encourage child to verbalize
Use doll/puppets for explanation
Involve the child whenever possible
Focus on one thing at a time
Praise for good behavior
Tell child the truth about expectations
Reassure child that you will be there as much as possible
Encourage child to express fears and ask questions
Read books together
Age Group
School Age:
6-12 years
Fears
Loss of control, pain, death
Intervention
Give choices whenever possible
Explain things in advance using correct terminology
Explain equipment
Allow child to have some control
Provide privacy
Encourage child to ask questions
Tell them what will happen a few days before procedure
Read books together
Age Group
Teenagers:
12-18 years
Fears
Change in body and appearance
Peer rejection, disability, loss of body part, loss of control, death
Intervention
Encourage questions, provide explanations
Provide privacy
Involve in planning and decision making
Allow to maintain control and independence
Do not talk about them in front of them, rather speak directly to the teenager
Include them in decision making
---
PRE-OPERATIVE PEDIATRIC TOURS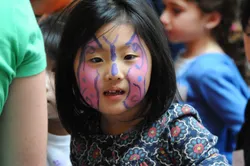 Pre-operative pediatric tours are provided to expose children to the sights, sounds, and purpose of Summit Surgical Center, LLC's environment in order to reduce anxiety and promote self-confidence. The tours are available Wednesday afternoons from 1:45 PM to 3:30 PM, are open to all children, their parents, and siblings and can be scheduled by calling 856-247-7800
. Parents have the opportunity to meet with an anesthesiologist and have their questions answered. The tours generally take 15 - 20 minutes and are free.
A Summit Surgical registered nurse will conduct the tour gearing the presentation to your child's age and personality. You and your child will be able to meet some of the staff, tour the facility, and ask any questions that you might have. The nurse will review any instructions given prior to the procedure, describe what will happen the day of the procedure, visit the admission and "wake up" rooms, and review any discharge instructions. Your child can also "play" with the OR hats or get "hooked up" to the monitoring devices if they desire.
We encourage you to take advantage of this service offered by our knowledgeable and caring nursing staff. Special arrangements can be made for those families that are not available to take the tour during their regular hours.
PRE-ADMISSION INSTRUCTION
Your doctor's office will schedule your child's procedure with Summit Surgical Center, LLC. Your doctor may also order any tests or lab work that might need to be performed. Please follow your doctor's instructions regarding pre-operative testing and completion of the pre-anesthesia medical questionnaire.
A Summit Surgical registered nurse will call you prior to your child's procedure to collect medical and surgical history information and provide you with specific instructions to be followed regarding your child's procedure. The nurse will also be glad to answer any questions that you may have. A Virtua Health anesthesiologist will review the information collected by the registered nurse prior to the procedure and will be familiar with any special needs your child may have prior to your arrival.
DAY BEFORE SURGERY
You will receive a call from the Surgery Center between 1 PM and 3 PM the day before the procedure to confirm the time of your child's procedure (Monday cases will be called on Friday).
It is vitally important that you follow the directions given by your doctor and the Surgery Center nurse regarding food and fluid restriction for your child.
DAY OF SURGERY
You will be scheduled to arrive approximately 60 minutes prior to the procedure in order to complete the admission process. As the parent or guardian, if you normally eat breakfast we suggest that you do so because in order to take care of your child you will need to take care of yourself as well. We recommend that you keep your child in their pajamas. The type of pajamas that allow the child's feet to be exposed are best, since we may place a small monitoring device on the child's toe during the procedure (no "footie PJ's). Please bring your child's favorite bottle, sippy cup or pacifier as they may be able to drink when they are awake enough in the recovery room. We have water and apple juice available and you are welcome to bring your child's favorite juice if you desire. We also encourage you to bring their favorite toy, blanket, etc. or, if your child is older, an activity bag with quiet items that your child plays with while sitting such as a puzzle or book.
After registering at the front desk you and your child will be escorted to a private or semi-private Pre-op room that contains a monitor and small television. A registered nurse will weigh your child, take "vital signs" (temperature, breathing, etc), place an identification bracelet on their wrist or ankle, and verify admission information. As the parent or guardian, you will also be given a matching identification bracelet. Depending on the child and the procedure involved your child may remain in their pajamas or they may be asked to change into a provided gown and slippers. The majority of children will have an IV placed after they are "asleep" in the operating room. If your child will "wake up" with an IV in the recovery room, the nurse will describe it to your child ahead of time.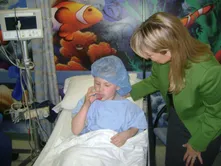 You will meet the anesthesiologist who will review your child's history and discuss what medications may be given during the procedure. You will also meet other nurses and caregivers who will be involved with the care of your child. They will all introduce themselves, describe their role, and ask questions which may have been asked by other staff members. We check and double check all information so please be patient with the admission process knowing that we only want to provide the safest care to your child.
Your child may be given medication to relax them before they are taken back to the operating room. You will be asked to remain with your child at all times because they may become sleepy. When it is time for your child to go to the operating room, they will be escorted by one of the operating room nurses. You will then be asked to remain in the waiting area where you will be updated by our staff and/or your child's physician.
In the operating room your child will be prepared for their procedure. If IV fluids/medications are required an IV will be placed at this time. When the procedure is completed a member of the anesthesia team and a registered nurse will transfer your child to the recovery room. Your doctor will speak to you after the procedure is completed. The transfer from the operating room to the recovery room may take some time so please do not worry if you are not reunited with your child right away. There is a great deal of preparation to do after the doctor leaves the operating room so it is normal for your physician to talk to you long before you are contacted by the nursing staff that your child is in the recovery room.
When your child goes to the recovery room they will be greeted by recovery room nurses and placed on monitors to check their heart, breathing and temperature. While waking up they may have a small mask by their face giving them moistened oxygen. They may have IV fluids infusing which will be removed as soon as possible.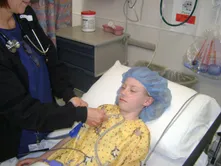 When you are asked to join your child we request that you stay with your child at all times to provide security. We ask that you do not leave your child's cubicle, bring food, drink, or extra belongings or use your cell phone in the recovery room.

Each child will "wake up" differently and it is possible that you may observe quiet sleeping, crying, or confusion. Some children will behave in ways that parents have not experienced in the past and this is a normal reaction to anesthesia. If your child is sleeping please try not to disturb them as it is best for them to wake up on their own. If your child is upset please reassure them as you would at home and know that our nursing staff is there to help you in any way they can. The recovery room nurses will give your child pain medication should they need it.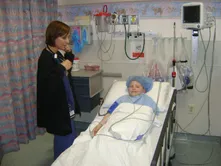 Recovery room time for each child is individual. You will be given written instructions from your doctor on the care of your child after discharge and a nurse will review them with you. You may also be given medication prescriptions at that time. When it is time to go home, you and your child will be escorted to your car at the main entrance door by one of Summit Surgical staff members. You must have the appropriate safety seats if your child is required by New Jersey law to ride in a car or booster seat.
AFTER DISCHARGE
When you get home, follow all the instructions that you were given for your child and make sure that they rest and "take it easy". If you have any questions, you will be given telephone contact numbers to call.
You will receive a post-operative follow-up phone call from a Summit Surgical nurse the first business day after the procedure.